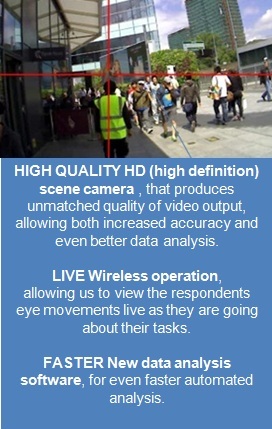 Another industry 1st for eyetracker...
We are please to announce that we have just taken delivery of the very latest mobile eye tracking glasses that not only delivers HD quality video (the highest quality of video on the market), but can also be run wirelessly.  
Currenly we are the only European eye tracking research company that are able to offer these unique features, meaning that the data collected is even more accurate and that we are able to actually watch a respondents eye movements "live" as they are going about their task. 
To find out more about the ground breaking system please either contact us, or drop by our stand at this month's Insight Show.