eyetracker, Europe's leading eye tracking research company and Holland's most innovative research company, Validators, are pleased to announce that they have agreed a joint partnering deal that will see eyetracker offering Validators ground breaking research methodology to the UK market.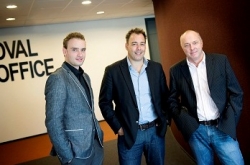 eyetracker's Managing Director, Iain Janes, is quoted as saying "Validators have an exciting and unique approach to not only understanding how to get the most out of their research techniques but more importantly how to apply the higher ROI of communication." Janes goes on to say, "the first roll out of the service will be aimed at the outdoor media market and over the coming 6 months this roll out will be extended into newspaper advertising, packaging and the direct mail arena's. The innovations offered by the Validators techniques will offer a real ROI for those involved in marketing"
The methodology, that was developed by Validators and the Dutch academic world, combines neuromarketing and analytical techniques (including eye tracking) with online studies. The learning's promise to deliver new insights for today's global brands who are looking at ways to increase the effectiveness of their marketing spend.
Validators CEO Martin Leeflang commented, "Over the last 18 months we have been working hard in Holland to expose the market to our methodologies, and I am pleased to say that we are now seeing a remarkable take up of the offering. The agreement with Eyetracker offers us the opportunity to now capitalise on the experience gained in the Dutch market" .
Erik Grimm, Head of Research at Cebuco (The Netherlands) commented about Validators research approach: "The new learnings from the Validators' research are so important that we now wish to share them with other members of the newspaper community".
Validators has also been nominated for Esomar's prestigious "Research Effectiveness" Award, the winner of which will be announced at the Esomar Congress 2011 in Amsterdam.